Aura

is an educational tool and design guide that caters to the needs of the individual, helping make stylized, customizable plans for the home and work space.  Supporting well-being through the utilization of color theory and biophilic design principles, 

Aura 

suggests accessible interventions to implement areas of high focus, creativity, relaxation, comfort, joy and positivity. Through an easy-to-use question and answer format accompanied by a gamified drag and drop feature,

Aura

not only helps curate a stylish space to live a healthy life in the now but also in the future. By considering principles of interior psychology,

prioritizing how human behavior and emotions are affected by the built environment

, the individual can benefit from the positive effects of curated color palettes and patterns. Suggested based on individual need and well-being,

Aura

 allows for small steps to take in transforming a space that supports both the mind and the body. 
We make choices for the design of our homes that cater to our physiological needs, like comfortable beds and sofas or ramps and railings, but when it comes to choosing design options based on our psychological needs, we are less aware of products or resources that can guide mental wellness. Moreover,

the connection between mind and body is often overlooked, waiting until the body demands change and often times in a reactive versus a proactive situation.

Not only are these considerations relevant and important for sustained wellness in a Covid-19, work-from-home era but also in planning for the future, making a shift from reactive to proactive thinking,
especially
 when considering how we age and how our needs change over time. 
​​​​​​​
Our homes and works spaces could be supporting our needs much more than they currently are. With many people working from home and needing to divide space in ways they never have before, it's more important than ever to create environments that support not only a daily personal routine but also allow for both professional work and social activities to take place. 

By incorporating principles of interior psychology into our personal lives and occupied spaces, we can start to actively consider how we might curate a desired effect and response

from the utilization of things like color variation and natural forms. 
Through a series of surveys and interviews asking about color associations and emotional response to visual patterns, I was able to identify commonalities not only in how people react to these specific environmental factors but also what they feel they have control over in their own spaces.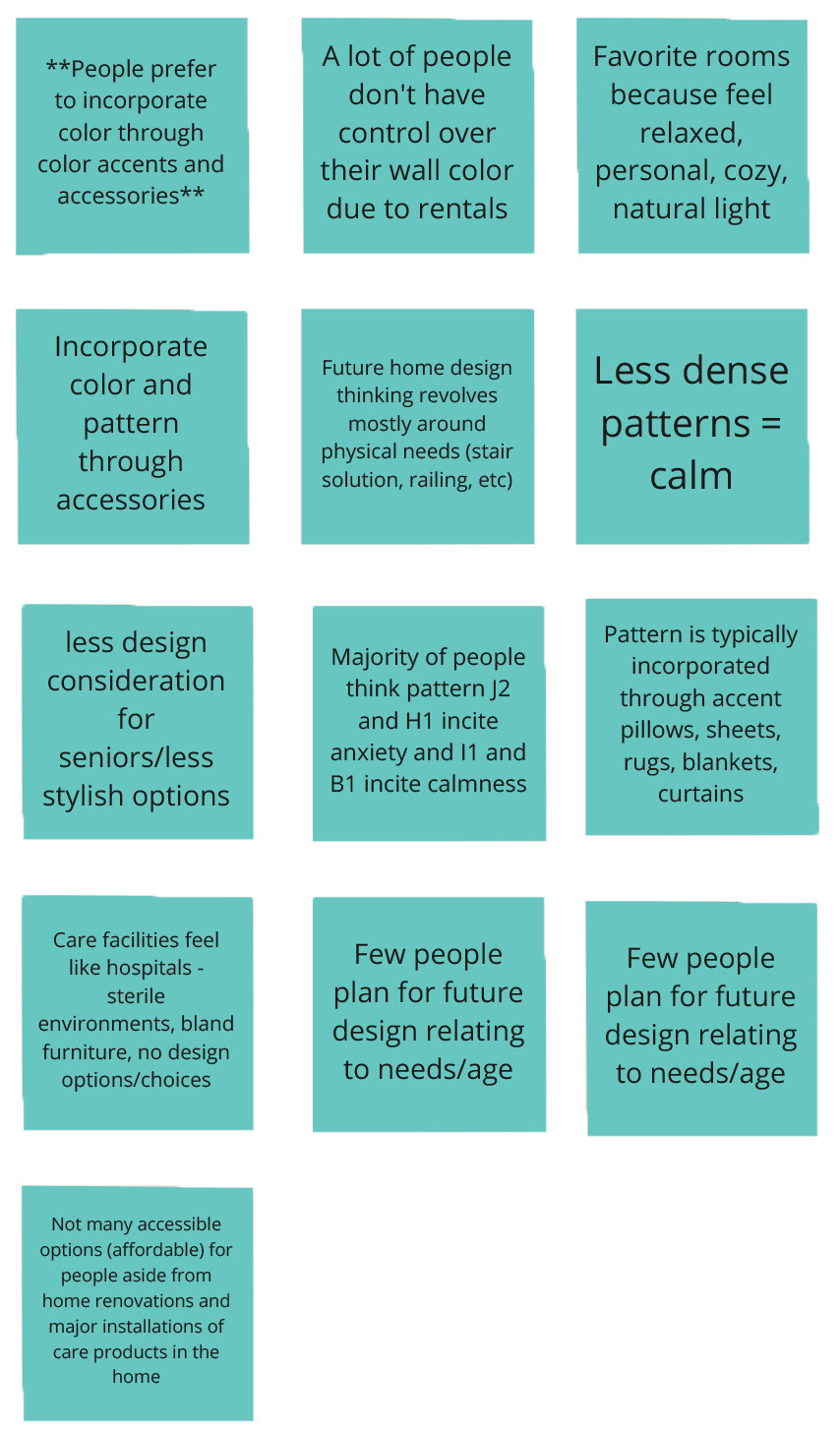 Color association surveys and interview insights
If people are more educated on how the built environment affects moods,
emotions and behaviors would they be more open to planning and designing a space in support of a heightened well-being? With more
informed
 choices of color and pattern use
throughout
 the home, are people more likely to be proactive about self care in the now and planning for care in the future? If there is a way to introduce design solutions to spaces that are both owned and rented without having to worry about major investment or rental regulations, would it make a difference in how space is considered? 
How might we introduce accessible home design interventions that support individual well-being?
In order to

provide educated options for people based on their needs and style choices

, I created a library of colors, patterns and products to choose from that would be accessible through a designed question and answer response system. With the goal of providing an

easy and affordable plan for users

, they are provided with a style guide based on their interaction with the platform. With the options to re arrange what they already own, purchase convenient home accessories locally or even make purchases through the tool itself, the user is made aware of

manageable design interventions

that have the potential to improve their well-being. 
These suggested alterations show the user how they can personally make simple changes to an interior space, encouraging people to pay more attention to how they can be mentally and physically affected by an interior and

increasing a sense of agency

in the process. Furthermore, a door is being opened to planning what types of changes one might need in the future, catering to a

proactive shift in adjusting to changing needs as we age.